Are you searching for how to claim impounded vehicle Philippines? Below are the steps you need to take. Learn the ins and outs of how to get your impounded vehicle back in the Philippines in 2023! Here are eight simple steps to follow.
For many Filipino car owners, the nightmare of having an impounded vehicle is all too real. Fortunately, the process of getting it back doesn't have to be difficult. This article will discuss the eight simple steps necessary for reclaiming your impounded vehicle in the Philippines this year. Whether you are dealing with a local law enforcement agency or a private towing company, we will discuss what documents are needed and how long it takes to get your car back. It will cover the necessary paperwork, fees, and procedures that must be followed to retrieve your impounded vehicle.
How to Claim Impounded Vehicle in the Philippines?
Here are the steps on how to claim impounded vehicle in the Philippines:
Step 1: Receive TVR from Traffic Enforcer
Since you weren't at the site when your vehicle was towed, a TVR— which contains the impounding area where your vehicle will be taken— will be left to any traffic officer on duty at the site or to any responsible individual who can give the notice to the Filipino owner.
Step 2: Visit the impounding area with the requirements
MMDA has two designated impounding areas in the metropolitan area: Tumana, Marikina City, and HK Plaza Impounding. Visit the impounding area indicated in the violation notice you received.
Make sure to bring the following:
TIF
Stencil (attested by an impounding officer)
TVR/MTT (issued by the Enforcer; original and photocopy)
OR/CR (original and photocopy)
Driver's license (photocopy)
Franchise/decision (for Public Vehicles)
An authorization letter with the valid ID of the owner
Present these documents and pay a standard towing fee to the accredited towing company. The rates are as follows:
Light vehicles (weighing 4,500 kg and below) – P 1,500 for the first 4 km + P 200.00 for every succeeding kilometer up to the impounding area
Medium vehicles (weighing between 4501 kg and 7500 kg) – P 2,500 for the first 4 km + P 200.00 for each succeeding km until the impounding area
Heavy vehicles (weighing 7501 kg and above) P 4500 for the first 4 km + P 200.00 for every succeeding km up to the impounding area
Step 3: Go to TTMD with the documents
Go to the Traffic Ticket Management Division (TTMD) located along EDSA corner Orense Street in Guadalupe, Makati City. Ensure you bring the aforementioned necessary documents with you.
Submit the documents to a TTMD personnel for verification. If you have any, you will be asked to pay for your previous unsettled traffic violations.
Step 4: Proceed to the Traffic Adjudication Division
Next, go to the Traffic Adjudication Division (TAD), which is situated in the same location as TTMD. Present the documents pertaining to current and past apprehension. They will then indicate the result of their review (Affirmed, Downgraded, or Upgraded).
Step 5: Pay your fine
Vehicle owners who want to know how to claim impounded vehicle Philippines should pay the fine at the Traffic Adjudication Division
For illegal parking, you have to pay a fine of P 3,000 (Unattended illegally Parked Vehicle P 2,000.00 + Obstruction P 1,000.00). Take note that you only have seven days to receive your violation receipt to pay your fine.
You also have the option to pay your fine through the following channels, but you will still need to go to TTMD:
Land Bank Link Biz Portal
Bayad Center
PayMaya
GCash
Grabpay
SM Bills Payment
MMDA Traffic Management Division
Step 6: Wait for the Release Order to be Approved
After settling your payment, the TAD personnel will prepare and certify the release order, which will be concurred upon and recommended for approval by an attorney.
Step 7: Receive your record and order release
Once the attorney has approved and signed the release order, it will be provided to you along with the record. The documents and vehicle will be returned to you as well.
Step 8: Get a traffic clearance
Finally, get a traffic clearance at TTMD. You need to present the documents mentioned above and follow the steps here.
How Much are the Towing Fees?
According to MMDA, any operator of a public utility motor vehicle or owner of a private motor vehicle, whether natural or juridical, who stalls on any public road, street, or thoroughfare within Metropolitan Manila must pay a fine of Two Hundred (P200.00). In addition, both government and private entities must collect a standard towing fee at the following rates:
| | |
| --- | --- |
| TYPE/LOAD OF VEHICLE | TOWING FEE |
| Trucks with a gross capacity weight of 4,000 kilograms or more | The first four kilometers cost P1,200.00. And P200.00 for each additional km. (Reference point: impounding area) |
| Cars, jeeps, and pickups with a gross weight of less than 4,000 kilograms | The first four kilometers are P800.00. And P200.00 for each additional km. (reference point: impounding area) |
| | |
| --- | --- |
| TYPE/LOAD OF VEHICLE | TOWING FEE |
| Trucks with a gross capacity weight of 4,000 kilograms or more | The first four kilometers cost P1,400.00. And P400.00 for each additional km. (reference point: impounding area) |
| Cars, jeeps, and pickups with a gross weight of less than 4,000 kilograms | The first four kilometers are P1,000.00. And P400.00 for each additional km. (reference point: impounding area) |
Payment Time and Duration
Time of payment for fines and towing fees in the Philippines must be paid within three (3) days of the vehicle being towed and impounded. However, if the operator or owner of the vehicle fails to pay the fines and towing fees within the specified time frame, an impounding fee of P80.00 per day will be imposed. Furthermore, if the vehicle is not redeemed by the operator or owner within one (1) month of the date of apprehension, it will be sold at a public auction on the first Monday of the following month. The proceeds will be applied to the accumulated charges (fine, towing, and impounding fees), with any excess being returned to the operator.
Impounded Vehicle in the Philippines
The Impounded Vehicle in the Philippines is a growing problem that needs to be addressed. In some areas of the country, impounded vehicles are becoming an increasing menace on roads and highways. This can lead to dangerous traffic conditions as well as increased pollution levels. It is important for authorities to take action and impose stricter laws and penalties on drivers who fail to comply with traffic regulations or keep their vehicles up to date with current registration demands.
For the Philippines government to effectively tackle this issue, they must work with local law enforcement agencies and private sector stakeholders such as tow-truck operators, vehicle repair businesses, insurance companies, banks, and other entities involved in the impounding vehicles. Through collaboration between all parties involved, effective regulation can be enforced, including regular checks for registration information and swift enforcement when violations are detected.
What is Impounding Vehicle?
Impounding is a process where a vehicle is seized and held by an authority or government agency. Impoundment can be done for various reasons, such as when a driver fails to pay fines or taxes, disregards traffic laws, or has an expired registration. In the Philippines, impounded vehicles are normally taken by the local police department or the Bureau of Customs.
When a vehicle is impounded in the Philippines, the owner will be given notice and must go to court to reclaim it. The court will determine if all fines have been paid and whether any other conditions must be met before releasing the car back to its Filipino owner. Depending on the severity of the offense, additional fees may be due before it can be returned. The Filipino owner must also provide insurance proof before reclaiming their vehicle.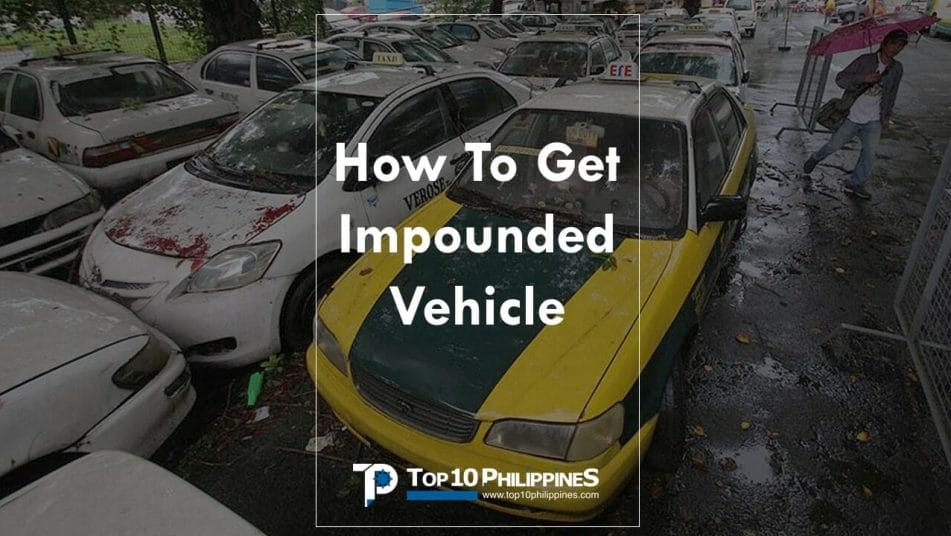 Tips on Avoiding Impounding Vehicles in the Philippines
Impounding vehicles in the Philippines can be an expensive, time-consuming, and stressful experience. To avoid this situation, there are some important steps that need to be taken. The following tips should help any vehicle owner in the Philippines stay on the right side of the law and prevent their car from being impounded.
The first step is to ensure all documents related to the vehicle are up-to-date and accurate: This includes registration papers, insurance certificates, license plates, and other related documents. It is also important for drivers to make sure to carry these documents with them at all times when driving to avoid being stopped by traffic enforcement personnel for not having the necessary documentation.
Another important tip is for vehicle owners to follow all local laws related to parking or other road infractions such as speeding or illegal U-turns. All cities in the Philippines have laws requiring drivers to follow traffic and parking laws, and local authorities may impound vehicles with outstanding fines.
Reasons for Impounding a Car in the Philippines
The Philippines has a series of laws and regulations in place to keep its roads safe. As part of this, the government can impound a vehicle for several reasons. In general, impounding a car occurs when an individual is found violating traffic rules or engaging in illegal activity while behind the wheel.
In more specific cases, a vehicle can be impounded due to delinquent payments on registration fees, unpaid parking tickets, or failure to comply with environmental laws. These are all offenses that can result in a police officer confiscating the vehicle until they have been paid off or rectified. Furthermore, if an individual is caught driving without legal license plates or insurance coverage, their car may be taken away temporarily.
What Should You Do When Your Car Was Impounded?
When your car is impounded in the Philippines, it can be a difficult experience. Understanding what to do when your car has been taken away is an important step in minimizing the stress and hassle involved. This article will help you navigate options to get your car back as quickly as possible.
The first step when you find out that your vehicle has been impounded is to contact the authorities who took it away. They should provide information about why the vehicle was taken and tell you where it is being held. In many cases, they may even instruct you to pay any fines or fees associated with returning the car. Once all of these steps have been completed, you should be able to retrieve your vehicle from its holding location. The second step is to contact a towing company to retrieve your vehicle. This can be done by simply calling the number listed online. Most companies in the Philippines will come out to the impound location and give you an estimate for retrieving your vehicle. In most cases, this will be cheaper than paying fines, but not always.
Summary: How to Get Your Impounded Vehicle Philippines
Getting an impounded vehicle in the Philippines can be a complex process. By following these steps, however, you can reclaim your car and get back on the road quickly and safely. First, visit the police station where your car was impounded to obtain a release order. Then, pay all applicable fines and fees to receive an official clearance certificate. Finally, ensure that all relevant paperwork has been completed, and ensure you have a valid ID with you during the process.
From finding out why the vehicle was impounded to going through the proper legal channels to reclaiming it, this guide has provided an overview of how to get your impounded vehicle back. It is important to remember that taking the wrong steps could result in costly fines or a longer wait time before getting your car back.